Shopping is an activity. A leisure pursuit inside an economic exercise, driven by desire.
Shopping has always been a process undertaken by the consumer.
- Either browsing an inventory in a store.
- Or seeking out a product from an online retailer.
A major factor of shopping today is convenience.

Shoppers today primarily use web search engines such as Google, Bing and Yahoo or search for products direct in Amazon or eBay. While this has proven very lucrative for the search engines, the consumer experience is inefficient and sterile.

To make shopping more convenient the time is right to supplant the search process from browsing or seeking to include a new paradigm of nominating what we are in the market for, and letting technology find sellers who best match each nomination for our consideration.
With the proposition flipped, shopping can now be a direct invitation from the consumer through an exchange to every interested retailer in pursuit of a sale.

- Brring is all about convenience.
- Brring centers around you.
- Active buyers meet active sellers.

Brring company purpose

Brring wants to make it easier to find & buy homeware
Brring is a personal shopper for your home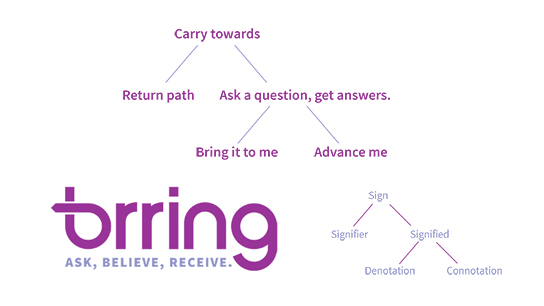 Brring empowers buyers to nominate products they are actively interested in, matching them to sellers who then bid for those invitations. This revolutionary approach empowers the consumer like never before. It is the online equivalent of walking into a store and being served by the very best shop assistants.

In this disruptive model, brands and retailers await invitations from hot prospects who are in the market and actively looking for a specific product or service. Brring does not require any awareness or interruptive advertising because here the people are not being targeted. It is the other way around. The consumer dictates what they need from retailers by creating invitations.

Brring is a symbiotic exchange between consumer desire and advertising they actively want to see. Invitation Marketing is warmly anticipated by buyers, who look forward to receiving messages from sellers because they are highly relevant and something they have physically requested.

Solution

1. Matches active buyers with appropriate sellers
2. Provides a platform for buyers and sellers to interact
The Brring system

Brring is a software solution that consists of:

- A mobile app for buyers that allows them to create, send and manage product invitations to sellers

- A bid/offer exchange platform to match buyers with the most appropriate sellers based upon user profiles, transaction data and the Brring Graph

- A mobile app for sellers to respond, manage and fulfill product invitations from buyers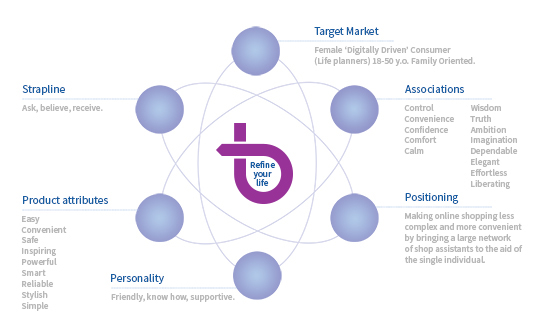 Market Size - Buyer

Our ideal buyers are busy professional homeowners who don't have enough time to search for top end designer homeware and furniture

Ideal demographic:
25-45 years old
Property owner (house or flat)
Disposable income
Employed / Running House
Smartphone App user

Market Size - Seller
Our ideal sellers are designers and home design stores - both physical and on the high street
Ideal Stores:
Categories: home, furniture, garden, interior design, kitchen, bathroom, bedroom
SME or Chain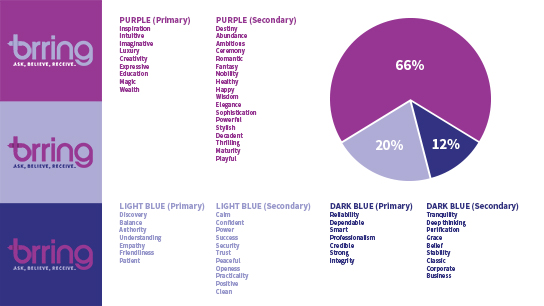 Choosing a main brand colour for the buyer side

PURPLE (Primary) Inspiration, Intuitive, Imaginative, Luxury, Creativity, Expressive, Education, Magic, Wealth.

PURPLE (Secondary) Destiny, Abundance, Ambitious, Ceremony, Romantic, Fantasy, Nobility, Healthy, Happy, Wisdom, Elegance, Sophistication, Powerful, Stylish, Decadent, Thrilling, Maturity, Playful.

LIGHT BLUE (Primary) Discovery, Balance, Authority, Understanding, Empathy, Friendliness, Patient.

LIGHT BLUE (Secondary) Calm, Confident, Power, Success, Security, Trust, Peaceful, Openess, Practicality, Positive, Clean.

DARK BLUE (Primary) Reliability, Dependable, Smart, Professionalism, Credible, Strong, Integrity.

DARK BLUE (Secondary) Tranquility, Deep thinking, Purification, Grace, Belief, Stability, Classic, Corporate, Business.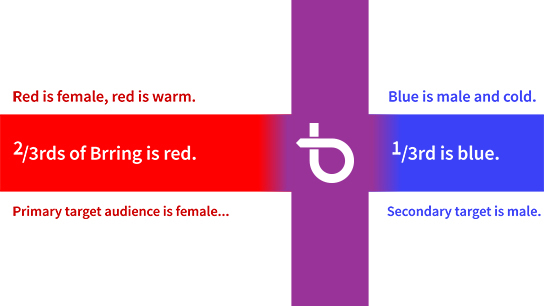 Choosing a main brand colour for the buyer side

Goethe's color specific highlights

Red: "The effect of this colour is as peculiar as its nature. It conveys an impression of gravity and dignity, and at the same time of grace and attractiveness. History relates many instances of the jealousy of sovereigns with regard to the quality of red. Surrounding accompaniments of this colour have always a grave and magnificent effect."

Blue: "As a hue it is powerful - but it is on the negative side, and in its highest purity is, as it were, a stimulating negation. Its appearance, then, is a kind of contradiction between excitement and repose. As the upper sky and distant mountains appear blue, so a blue surface seems to retire from us."